Chimborazo
What is Chimborazo? Let me start with a story:
A not so random name
Many years ago, I was quite young. I learned to read at the age of 6, and over that summer I read my first book. The Hobbit. This kicked off a love of book and reading in general, which my parents were very proud of. They'd give me things to read and they'd take me to the library to find new stuff. Other people would give me more age-appropriate books as presents for my birthday and other holidays. Among them – a collection of three child's encyclopedia-type books, each with a different theme (I'll try to find them and take a picture). One was for animals, another for technology, and the third one was with facts about the world.
I was 8 years old when I learned a new factoid – the summit of Mount Everest is, in point of fact, not the furthest place from the centre of the Earth, as I had thought. It's the tallest mountain after all, so I was pretty surprised to learn that it was actually the summit of Mount Chimborazo, because it's almost exactly on the equator and the Earth is much wider there. To the 8 year old me this was, for all intents and purposes, magical. My mind was blown. This was my first real life case of a misalignment between what was perceived and what was. This small bit of trivia changed everything.
Over the course of my life I was always making things. Poorly drawn comics, stories, games for myself and my friends to play. You can't read as much and not start to build your own worlds, to populate them with the heroes you've always wanted, to let works inspire you and create versions of them that are your own. Star Wars was by far the biggest influence, when I was very young I watched the original trilogy pretty much on repeat.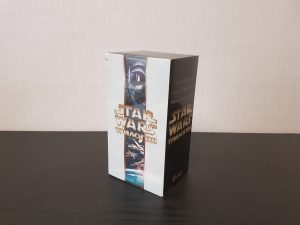 Fast forward to over 7 years ago. I'm keeping up with my TED talks, when suddenly there's a new upload. Rives: Reinventing the encyclopedia game. It's a beautiful talk. By the end, as much as I don't believe these kinds of things, I almost had no choice but to take it as a sign. Just as I was starting to write this expansive world, as I was considering making a game out of it, this one 10 minute video came and forever left its mark. It's not the best talk ever given. Or the most interesting. But for me, then and there, it was a perfect storm of coincidences, a lifetime of interests, captured perfectly in a simple closing sentence. The sense of mystique and wonder I first felt when old Ben Kenobi explained The Force to Luke, the curiosity to always find new, interesting things, the profound desire to dig in further and get amazed every time.
That's pretty cool… I didn't know that… Chimborazo!
This is what I want to give to people, readers and players alike, is that same awe at the magical experience of encountering something new and fantastical that I had when I was younger. With every page you turn, whether it's scrolling through a short story set in the world, reading one of the novels, or playing one of the games, I want you to have a reason to go "Chimborazo!"
Scaling it up
With the history of how the name came to be out of the way now, let's try to ask the quintessential question again. What is Chimborazo?
Poetically put, it's a promise. Much like "Hello Dolly" symbolises the hope and enthusiasm of an entire generation summed up in two words sung most famously by Louis Armstrong, so too does "Chimborazo!" capture the sense of wonder and excitement of good fantasy, interesting and unique stories and experiences that are so trivially lost in the noise of the modern digital age.
What started out as a worldbuilding effort, admittedly truly epic in scope and planning, has since transcended the bounds of the written word. The Chimborazo Multimedia Project is a massive endeavour across almost every platform I can think of. It is, perhaps, a foolish undertaking, but every dream starts somewhere. For the time being, the two main pillars of the Project are the namesake TTRPG and the expansive worldbuilding effort currently residing on the WorldAnvil platform.
But whole those are the *main* aspects, the CMP features so much more:
At least one other TTRPG.
A card game.
A custom MTG cube draft set.
A Choose Your Own Adventure book.
A digital oldschool text adventure game.
Companion apps for Android.
Unique short stories.
Trilogy of novels.
Probably more things that I'm forgetting right now.
A promise for a never ending stream of mostly free content, a game so ambitious in scope that if it were ever actually finished it would dwarf any other RPG out there, with an infinite supply of modules for as long as I can make them. As for the project as a whole… it is, simply put, the magnum opus. I can't describe it any better than that.
A magnum opus to end all others.
And now, if you didn't watch it before, I leave you with the reason we're here today. The reason a lonely mountain is the nexus of an infinitely large multiverse, where anything and everything has, can, and will happen.